Publications:
---
COINS CONF 2022


Title="MIMA - Multifunctional IoT Integrated Menstrual Aid"
Authors= Amish Bhibhu, Jyothish J. Kumar, Shreya Shivangi, Subhankar Mishra, Sulagna Saha
Conference= IEEE International Conference for Omni-Intelligent Systems (COINS) 2022, 4th ed., pages: 85-89.
doi="10.xxxxxxxxxxxxx"

Abstract: Abstract: Menstruation is the monthly shedding of the endometrium lining of a woman's uterus. The average age when girls start menstruating is around the age of 12 years (menarche), and the cycle continues until they attain menopause (about the age of 51). Medical research and analysis in this field reveal that most women have to go through a painful cycle of abdominal cramps along with sanitary pad rashes while painkillers or endurance ability is their go-to solution. Heat pads or hot water bags also help in pain reduction. Currently, the concept of period pants revolves around pad-free and hassle-free periods for women whereas most women still prefer sanitary pads during their period cycle. MIMA aims at the development of IoT integrated smart functional intimate wear for women that would help women comfort during menstruation by catering to issues of menstrual cramps, rashes, leakage and stains, malodor, etc. The proposed methodology has been implemented referring to the online survey conducted from Indian women (17- 58 years old). The proposed intimate wear- MIMA can provide comfort during the menstruation cycle with IoT integrated Heat-Pad and functional alterations in the garment for a rash-free, anti-odor, and leak-proof period.

---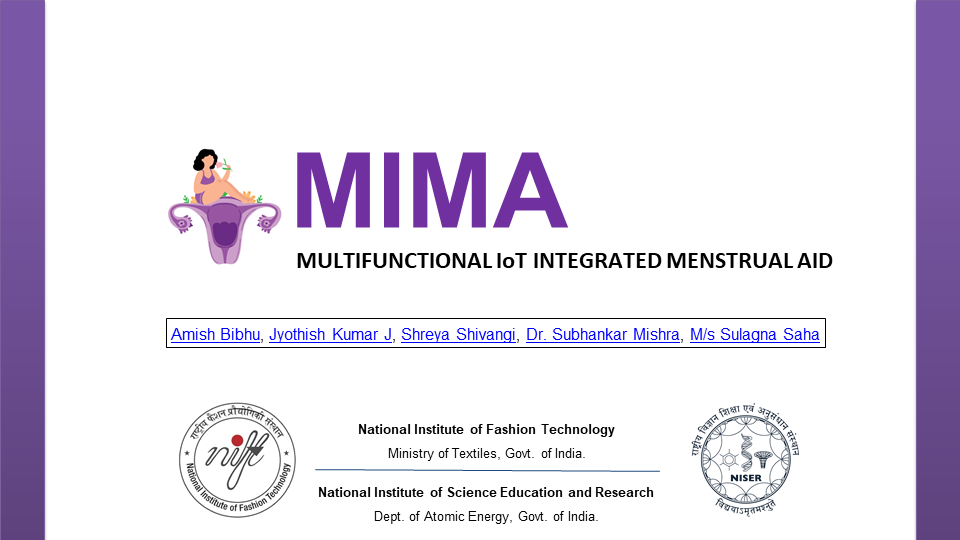 Team:
---
MIMA is joint project with NIFT, Bhubaneswar.
NISER | Jyothish Kumar J (jyothishk.j@niser.ac.in)
NISER | Subhankar Mishra (smishra@niser.ac.in)
NIFT | Amish Bibhu (amish.bibhu@nift.ac.in)
NIFT | Shreya Shivangi (shreya.shivangi@nift.ac.in)
NIFT | Sulagna Saha (sulagna.saha@nift.ac.in)
Shreya and Amish contributed to the initial ideation, primary and secondary research, along with MIMA's design and development. Jyothish developed MIMA's IoT system - This includes design and fabrication of the controller, heat-pad as well as the development of the device firmware and Android application. Subhankar and Sulagna contributed to oversight and leadership responsibility for the research activity planning and execution as well as critical review and editing.
---
SUBHANKAR MISHRA ଶଭଂକର ମଶର
Reader-F in School of Computer Sciences, NISER
smishra@niser.ac.in | +916742494460 | Bhubaneswar, Odisha, India - 752050
Machine Learning & Privacy
Home | CV | Google Scholar | Github | Map | Fulbright Nehru Fellow
BJEM School → BJB College → NIT Rourkela → UF → ORNL → IIT Roorkee → NISER